Singapore Sports School, in collaboration with STTA started the School-Within-A-School (SWS) programme.
The SWS provides an alternative approach to studying and training for selected Singapore Sports School student-athletes. These student-athletes have been identified by the STTA and Sports School as having the potential to be on the high-performance sport development pathway.
Student-athletes in the SWS programme undergo extended duration of training during the day and attend academic classes mainly in the late evening — quite a different concept from what students in mainstream schools do. The longer training sessions are aimed at optimising training and eventually narrowing the gap with the international playing standards.
In addition, SWS offers a greater customisation of academic support for its student-athletes so that they can travel and compete more frequently. The yearly and daily academic schedules of SWS are worked around the student-athletes' training and competition plans. Classes may also be conducted during the scheduled school holidays.
Academic programmes are athlete-friendly, where student-athletes are taught in small groups to allow greater attention for each student-athlete. The academic make-up system also ensures that student-athletes who miss lessons due to competition continue to be up to pace with their peers.
POST-SECONDARY PATHWAYS
In a conventional secondary school, there is the need to prepare for the national examinations and sport training will take a back seat for at least six months ahead of the national examinations. This is also when student-athletes aged 16 and 17 years old are just beginning to develop in their chosen sport.
To leverage on this sport development opportunity, Sports School offers the through-train pathway, bypassing the national examinations, leading to a post-secondary education. The post-secondary programmes conducted on Sports School campus are customised to be athlete-friendly. The flexible timetable which wraps student-athlete's academic lessons around their training schedule allows student-athletes to focus on their sport development. Student-athletes also have greater support for deferment and exemption to accommodate their demanding overseas training and competition plans. The athlete-friendly academic programmes is a creative and necessary system which allows youth athletes to develop their sport talent without having to compromise their academic grades.
The Sports School currently has three post-secondary through-train pathways: International Baccalaureate Diploma Programme, with an option of the Extended programme; customised Diploma in Sports and Leisure Management; and customised Diploma in Business Studies (Entrepreneurship Management Option).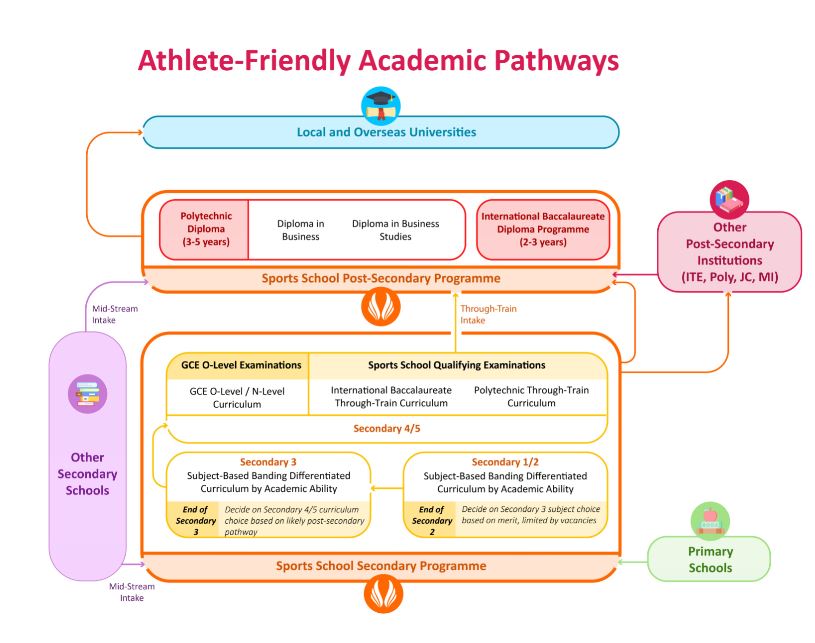 The STTA and Sports School have already experienced success in such a sport-study structure — as exemplified by table tennis student-athlete, Clarence Chew. His extensive and intensive training and competition schedule in the lead up to major games gave him the skills and stature to win 2 golds, 3 silvers and 4 bronzes at the SEA Games 2013, 2015 and 2017; gold in Commonwealth Games 2014; as well as 2 golds and 1 bronze in the SEA Championships 2016. His customised study schedule facilitated his academic success and allowed him to join the RP-SSP DSLM programme as a Sport Scholar. The flexible and athlete-friendly RP-SSP academic through-train programme also allowed Clarence to continually pursue excellence in studies and sports.
This School-Within-A-School Programme is aimed at assisting selected student-athletes achieve international sporting standards and preparing them on an optimal training and developmental pathway with complementing educational track.
For more information on the SWS programme, please refer to: Singapore Sports School