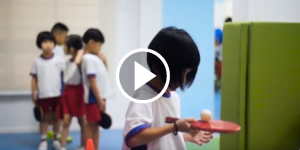 The STTA started the pre-school table tennis programme by collaborating with PAP Community Foundation (PCF) Kindergartens and it was piloted at Nee Soon South Constituency in 2009.
Over 7000 children have been exposed to the game of table tennis since 2009 and currently our STTA Pre-School table tennis programme has extended from the PAP Community Foundation Kindergartens to private Kindergartens.
The objective of the pre-school table tennis programme is to introduce table tennis to Kindergarten 1 & 2 children with the aim of arousing their interest and teaching them the basic skills of the sport. Talented and promising young talents will be invited to the STTA zone training centres located island wide for further training.
If your Kindergarten/pre-school is interested in our pre-school table tennis programme, please contact us at Tel: 6354 1014.